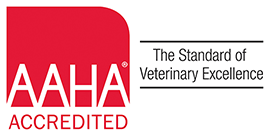 We love your pets and we value your trust in us to provide care for such an important part of your family.  As Peoria Illinois' full-service, AAHA accredited veterinary medical facility our professional and courteous staff provides the best possible medical, surgical, and dental care. By providing compassionate care through veterinary excellence, we promote responsible pet ownership, preventative health, care and health-related educational opportunities for our clients.
Meadowbrook Veterinary clinic has been accredited by the American Animal Hospital Association since 1992.  This accreditation insures that our hospital meets AAHA's strict standards of excellence in diagnostic capabilities, anesthesia, surgery, pharmacy, nursing and emergency care.  Learn more about AAHA accreditation and why our accreditation is important to you and your pet. Visit aaha.org/petowner.
Mission Statement
It is the mission of Meadowbrook Veterinary Clinic to provide compassionate care through veterinary excellence.  We will provide comprehensive veterinary care with a high quality of medical and surgical services while utilizing the many talents of its staff and facilitating the relationship between the owner and their pet. We plan to do this by:
Utilizing the latest technology to provide more comfort to the animals and reduce their recovery time.
Maintaining a professional appearance and attitude with each client that we serve, whether it be on the phone or in person.
Providing our staff the opportunity to grow in their profession to better serve our clients.
Being leaders in the community as respectful pet experts and owners.